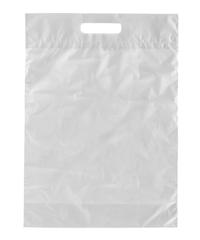 As an animal lover I don't like to read unhappy stories about pets but it is vitally important that you know what letting your cats play with plastic bags or leaving plastic bags out in the open, can lead to. I feel I have a moral obligation to try and educate as many people as I can about the hazards of ordinary plastic bags. I know as a responsible pet owner, you probably take precautions to prevent your cat from suffocating if you let them play with plastic bags.  That's not enough and this could easily happen to you.  Here is my story.

I had a wonderful cat by the name of Cleo.  My cats always loved to sleep and lay on plastic bags so when I did my grocery shopping I would often leave a few out for them to have fun in. Cleo in particular used to curl up inside the bag and sleep. Sometimes she would play with the other cats through he hole(handle). She loved sitting inside and peeking out of the hole.  I always made a few snips and little holes so they couldn't suffocate. I thought it was so cute I even have pictures of her doing it.

One day I came home and Cleo was no where to be found. I looked high and low and finally discovered her under my bed. When I was finally able to get her out, she had a plastic shopping bag wrapped around her. Now this may be a little difficult to envision but I'll try my best to describe it and you try to picture it. The bag was the regular grocery type which  has a hole cut out to put your hands in to carry. Her head was just the right size to poke in and out of the hole.

It looked like she had put her head through the hole and then stepped on the body of the bag, pulling it further down her neck. She somehow managed to get her front paws through the hole but when the bag got down to her middle, she couldn't get out of it.

This took place during the day while I was at work.  She must have continued trying to escape. The damn thing was so tight around her that I had to pry it off and cut it away with scissors. I have no idea how long she must have run around with the bag hanging off of her and terrorized.

My precious Cleo went insane. I had to have her put to sleep a few days later.

You won't see a plastic bag anywhere in my place now. I get groceries of course but those bags are immediately put in a cupboard. I won't even leave one on the counter for a minute. I don't like distressing animal stories but I feel I have a moral obligation to warn everyone of this particular hazard. I hope now that you know about it, you will tell anyone else who may let their cats play with plastic bags. You may save a precious life. 

It should also be noted that some cats like to chew on plastic. This can lead to an obstruction in their stomach or bowel causing serious damage which in most cases requires surgery

**Since this story was first published I have had a number of people contact me about their experiences. One in particular warrants repeating. A woman wrote to tell me she bought a new comforter for her bed which came in one of those large, heavy plastic bags. She took the comforter out and left the bag on the bed and left the room. When she came back in a few minutes later one of her cats was inside the bag and the other one was sitting on top of it. When the cat sat on top of the bag it became a plastic vacuum.  She said the bag was enclosing the cat and had become wrapped around it like it was shrink wrapped with no air. If she hadn't returned when she did her cat would have suffocated.  Another danger to be aware of. 

Plastic bags can be deadly.

WARNING - PLASTIC BAGS

CAN KILL YOUR CAT

The content of this page is copyright material. Use of the article in its entirety, portions of the article, or private pictures included herein is strictly prohibited and may not be published, reprinted or duplicated in any manner without the express permission of the author.

IF YOU OR SOMEONE YOU KNOW HAS SUFFERED THE DEVASTATION OF LOSING  A PET OR IF YOU HAVE AN ELDERLY PET PLEASE TAKE A FEW MINUTES TO 

VISIT THE  LINK  BELOW

THIS IS A NON-COMMERCIAL SITE WHICH OFFERS INFORMATION AND RESOURCES TO HELP THOSE SUFFERING FROM THE GRIEF OF LOSING THEIR PET IT ALSO INFORMS PEOPLE OF THE CHOICES THEY HAVE WHEN THE TIME COMES SO THEY ARE BETTER PREPARED

BEFORE YOU LEAVE PLEASE TAKE A FEW MINUTES TO SEE THE REST OF THIS BEAUTIFUL TRIBUTE MEMORIAL SITE FOR MORE INTERESTING READING AND ADVICE

MAKE SURE TO BOOKMARK US SO YOU CAN COME BACK

IF YOU WOULD LIKE TO DISCUSS ISSUES OR PROBLEMS YOU HAVE WITH YOUR CATS OR SHARE STORIES AND PICTURES  WITH OTHER CAT LOVERS JOIN THIS FRIENDLY GROUP  AT LITTER AND LORE